The Aviation industry amalgamates multiple segments within itself. Main streams associated with this industry are Aircraft Flying Operation, Aircraft Maintenance Engineering (AME), In Flight Cabin Crew, Ramp & Cargo, Safety and many other divisions which altogether support its very existence.
Of them all, the Flying division or the operation sounds most astounding but it is the Aircraft Maintenance Engineering division (AME) which is the Key factor and has pivotal role to play to keep the aircraft afloat and garner commercial advantages for its operator. The persons having completed AME engineering course and granted license by the NAA are amongst the highest salary paid personals globally.
The populist courses have pathways available to provide appropriate guidance for their lateral entry but for the training in maintenance division only the license training programs for AME courses are approved by the National Aviation Authorities of the ICAO member countries and is the most sought after.
In all the countries around the globe, the National Aviation Authorities compile the regulatory requirements to assess and control the aviation divisions as a watch dog. The Aircraft Maintenance Engineering Course is a license training program through which an Aircraft Maintenance License can be obtained by completing DGCA and EASA approved AME Course in India.
Worldwide the populist AME engineering licenses are issued by the Federal Aviation Authority (FAA) in the USA, General Civil Aviation Authority (GCAA) in the Middle East and European Union Aviation Safety Agency or EASA in European Union member states. The associated maintenance personals are identified in the USA as Aircraft Mechanics, Aircraft Technicians in European Union and AME Engineers in India.
Aircraft Maintenance Engineering (AME) Course Categories
The maintenance of an aircraft requires repair, replacement, troubleshooting and overhauling of aircraft structure, systems and components which are performed by the licensed AME mechanical for the Airframe, Hydraulic, Powerplant and AME Avionics for electrical system, instruments and radio navigation.
The scope of aircraft maintenance engineering is defined by various categories in AME program which are classified by the DGCA as
All the above-mentioned Categories of aircraft maintenance engineering are divided into multiple sub-categories which define the scope of AME work and approvals for the maintenance of the different types & make of aircraft.
Category A is aircraft maintenance certifying staff who is also popularly known as Transit Engineer. As the name itself defines, the scope of maintenance of Category A is limited to minor maintenance of aircraft with performance checks & inspections of aircraft in between landing & take-offs at airports apron area. The associated activities limited within scope of aircraft maintenance engineering for Cat. A include addressing airframe, powerplant, landing gear and hydraulic system inspections to be performed during the turnaround time. Any identified fault which needs to be addressed during transit check requiring repair & troubleshooting needs to be attended by the Category A certifying staff for the clearance of the aircraft and to be airworthy again.
Category A AME Course Duration
The AME course duration stipulated for the DGCA approved AME colleges in India as per regulatory requirements is 800 hours of theoretical and practical elements followed by the examination, which is conducted by the Central Examination Office of the DGCA. This training consists of 10 modules or aviation subjects in total which cover up the basic elements of the aircraft maintenance engineering. Examinations are computer based Multiple choice questions for the relevant modules, whose training has been concluded by the AME colleges and are conducted by the Central Examination Office of the DGCA three times in a calendar year.
Category B AME Course Duration
Category B gives privilege to a Certifying Staff to perform Base or Heavy Maintenance as an Aircraft Maintenance Engineer. The scope of AME regarding Category B of aircraft maintenance license is classified in 2 Categories and 4 sub-categories namely in AME Mechanical and AME Avionics Stream
AME Mechanical Stream
The different stream of AME approval in Category B of Aircraft Maintenance Engineering define privileges of a licensed AME which he/she can exercise for the aircraft maintenance.
Category B 1.1: Aeroplane Turbine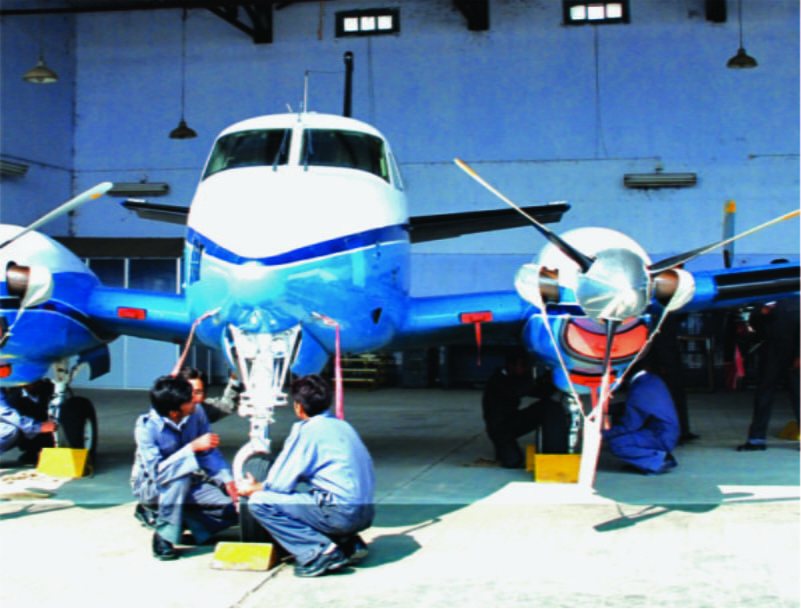 This Category of aircraft maintenance engineering defines the scope of work limited to repair, rectification, replacement, troubleshooting and inspections of mechanical equipment's and components installed on a heavy pressurized aircraft weighing above 5500 Kg MTOM (maximum take-off mass). Examples of the Aircraft belonging to heavy category are the one manufactured by the large enterprises like Boeing, Airbus, Bombardier Aerospace, Textron Aviation, Embraer and other business jets counted under General Aviation.
Being associated with the AME mechanical stream, the scope of AME belonging to Cat B 1.1 are limited to aircraft structure and installed engines, which are primarily gas turbine or jet engine powered. The aircraft maintenance engineering activities taken up by the Cat B 1.1 AME are highlighted as the base maintenance. Most of the base maintenance activities are performed in the controlled environment at the DGCA/EASA approved aircraft maintenance organisations also known as CAR 145 organisation in India.
Category B 1.1: AME Course Duration & Examination
The AME course duration stipulated for the DGCA approved AME institutes in India as per regulatory requirements for Cat B 1.1 is 2400 hours of theoretical and practical elements, combined. These 2400 hours of AME course duration is reserved as 60% for theory to 40% for practical training. It requires coverage of 11 modules in total for AME basic training with multiple choice-based exam conducted by the DGCA. The Cat B 1.1 aircraft maintenance engineering license qualification are mentioned in the regulatory requirements which dictates 2 years of aircraft maintenance experience in actual maintenance environment along with the positive module exam result.
Category B 1.2: Aeroplane Piston
This scope of AME privilege related to this category of Aircraft Maintenance Engineering limits to repair, replacement, inspections and troubleshooting on light aircraft. The aircraft belonging to this category are powered by piston engine and are mostly used for the purpose of Flying Training, Farming, Aerial Survey, Adventure and Leisure Sports. The popular aircrafts in this Category are manufactured by Beechcraft, Cessna, Piper Diamond, Tecnum and Cirrus.
The work scope of AME in Cat B1.2 is same as that of Cat B1.1 but on the smaller scale. The volume of maintenance activity to be performed are usually low but the skill, knowledge and attitude levels are required nothing less compared to that of Cat B 1.1 in their relevant category.
Category B 1.2: AME Course Duration and Examination
The aircraft maintenance engineering course requirements pertaining to Cat B 1.2 is similar to that of Cat B 1.1 except changes in few modules. The Gas turbine engine (Module 15) is replaced by Piston engine (Module 16). The Aircraft Aerodynamics Structure & Systems Mod 11a is replaced by Module 11b of the same name with relevant level of knowledge requirements. The Examination for the light aircraft category is conducted by the DGCA and after passing of all modules, two years of actual maintenance experience in an active maintenance environment has to be demonstrated by a written record for the issuance of aircraft maintenance engineering license by the DGCA.
Category B 1.3: Helicopter Turbine
This Category handles maintenance activity to be performed on heavy or large Helicopters or Rotor Craft fitted with turboshaft gas turbine or jet engine. It is one of the most complex flying machines which demands high level of skill & knowledge to perform aircraft maintenance activity on the helicopter. The noise and vibration challenges faced in a helicopter are the most difficult ones to be addressed by an aircraft maintenance engineer.
Helicopters are the smartest modes of transportation due to non-significant landing requirements and easy maneuvering at congested spaces. The popular jet engine powered helicopters in civil aviation are Sikorsky, Airbus, Bell, Leonardo and Dauphin.
Category B 1.3: AME Course Duration & Examination
To enjoy the privileges of a Helicopter or Cat B 1.3 AME, the aircraft maintenance engineering course educational qualification dictates clearing all 10 module exams with 2 years of recorded experience in helicopter maintenance. Most of the modules associated with Cat B 1.3 of aircraft maintenance engineering are similar to that of Cat B 1.1 but the point of difference lies in replacement of Mod 11a (Aircraft Aerodynamics, Structure & Systems) by Mod 12 (Rotary Aircraft Aerodynamics, System & Structure) and elimination of Mod 17a (Propeller).
Category B 1.4: Helicopter Piston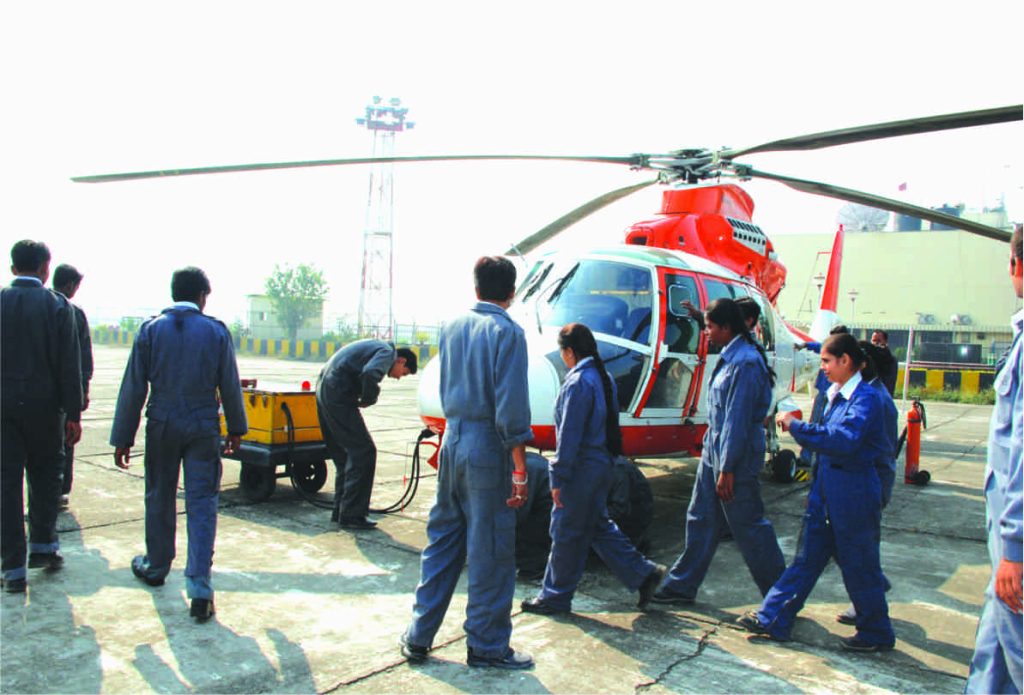 This Category of aircraft maintenance engineering is aligned towards upkeep of Light helicopters fitted with piston powered engine. The privileges of engineer under Category allows him only to repair & overhaul structure, equipment & components associated with light helicopters. The popular manufacturers under this Category of rotor crafts are Robinson, Enstrom and Schweizer.
Category B 1.4: AME Course Duration & Examination
The AME course training standards belonging to Category B 1.4 are similar to B 1.3 except Mod 15 (Gas Turbine Engine) which is replaced by Mod 16 (Piston Engine). The qualification and experience requirements for the grant of aircraft maintenance engineering license by the DGCA is similar to Cat B 1.3.
AME (Aircraft Maintenance Engineering) Avionics Stream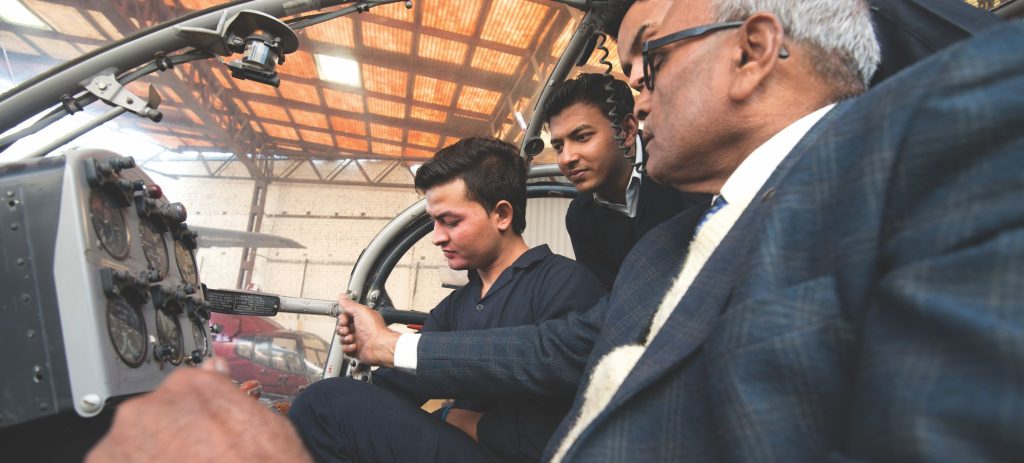 Category B2
This Category corelates to maintenance, repair and overhaul of the electrical, electronic equipment and components including wiring, oxygen, fire & lightening system of an Aeroplane. The scope of AME holding Cat B2 aircraft maintenance license is similar to that of Cat B 1.1 with similar training and experience requirements with more inclination towards electrical, electronics, instrumentation & radio navigation and less emphasis on aircraft structure and aerodynamics.
Eligibility Criteria For Admission In Aircraft Maintenance Engineering(AME) Course
The eligibility criteria for inception in aircraft maintenance engineering course is defined by all the National Aviation Authorities globally. There is marginal diversion in the basic knowledge requirements in the AME course but the experience requirements for the grant of aircraft maintenance engineering license remains same for the most.
Along with the defined aircraft maintenance engineering course details, the competent authority also stipulates the compliance of certain standards which are mandatory requirement for meeting the eligibility criteria.
The DGCA has set eligibility standards for AME course intake which are stated as:
Minimum age at the time of admission is 16 years.
The candidate must have passed 10+2 with PCM as his/her majors.
Diploma holders after 10+2 only in Mechanical, Electrical, Production or Electronics can apply.
Medical Fitness Certificate issued by Registered Medical Practitioner (minimum MBBS).
No colour blindness in vision is acceptable.
Verification of 10+2 result from recognized State/Central Exam Board.
Govt Issued photo identity card (Aadhaar or Passport Copy).
Admission Procedure In Aircraft Maintenance Engineering Course
Aircraft Maintenance Engineering is a specialized course which commands skill, knowledge and high attitude level in a candidate. The basic knowledge levels of an aspiring AME candidate can be assessed by AME entrance exam at IIA Group which focuses on evaluation of individuals competency level to undertake AME course.
The inclined candidate should fill up the admission form online for the registration in which they should display their interest for admission in aircraft maintenance engineering course.
While taking admission it is very important to verify the approval status and scope of AME training of an institution. The list of DGCA approved AME colleges can be sought from their official website dgca.gov.in with their approval status and scope of approval region wise pan India.
The candidate is briefed about the AME course details with guidance for the selection in appropriate category of aircraft maintenance engineering license training program.
The candidate is advised to select the chosen category of AME engineering course as per their choice and is asked to submit his previous educational qualifications & medical credentials for compliance of regulatory requirements.
Although AME course within itself is most sought after due to highest salary paid personals but the inclination of the candidate is dictated with the demand and supply in the aviation market for the relevant category, sub-category of aircraft maintenance engineering.
Eligibility Criteria For Admission in Aircraft Maintenance Engineering (AME) Course
Aircraft Maintenance requires maintenance, repair, replacement, overhaul and inspection of an aircraft as per the guidelines given in the Aircraft maintenance manual supplied by the original equipment manufacturers. No task or activity in the aircraft maintenance engineering is expected to be performed by the professional by applying their own procedure or using any unauthorized tools.
AME courses are meant for the development of specialized skill set & knowledge level as the trained personals, who are amongst the highest salaried professionals in the world are expected to undertake the responsibility of certifying the aircraft fitness with utmost care by following up the manufacturer's guidelines.
To ascertain the airworthiness of an aircraft, the AME training requirements are huge which starts with 90% attendance in training program and 75% passing marks in the module examination. Along with that the practical exposure on millions of dollar worth aircraft is a mandatory requirement which all the DGCA approved AME colleges in India must comply to.
A candidate must exhibit his dedication, determination and perseverance for becoming a successful aircraft maintenance engineer. The profession is very much demanding and there is no margin of error with in the work & scope of an AME. Any misappropriate action could result in an accident which can cause not only loss of aircraft but precious human life too.
Aircraft Maintenance Engineering (AME) Course Fees
Any training or curriculum which is challenging and requires a sense of responsibility doesn't come cheap. The Fee structure for AME course in Category B1.1 & B2 varies between 6 lacs to 10 lacs for complete 2400 hours of AME course duration. This is inclusive of Govt levied taxation and practical training fees which an aspiring candidate attends at an aircraft maintenance training organisation.
Aircraft Maintenance Engineering (AME) College Under IIA GROUP
Indian Institute of Aeronautics was established in year 1982 at Patna Airport, Patna by one of the pioneers in Indian Civil Aviation, Capt. Ram Niwas Sinha, who himself was a commercial pilot. Over the decades, the growth in aviation sector with inception of new airline operators accelerated the demand for aircraft maintenance engineers. To supplement the manpower requirements, the DGCA approved AME colleges in Delhi by name of JRN Institute of Aviation technology and Bharat Institute of Aeronautics at Patna played a pivotal role in supplementing manpower requirements.
The 43 years legacy with maintenance of quality and training standards engraved the name of this pioneer group offering AME course in golden words. The IIA Group is the most reliable name when it comes to aircraft maintenance engineering training not only in terms of its numbers but volume of aviation technocrats in thousands who attended and concluded their aircraft maintenance engineering course from these institutions.
Aircraft Maintenance Engineering (AME) Jobs & Career Opportunity
The salary of AME is amongst highest paid professionals in India. The structure for a Category B 1.2 light aircraft maintenance engineer starts from Rupees 75K and goes upto 3.5 lacs per month (depending upon the Class and weight of the aircraft). For the heavy aircraft or Cat B1.1 & B2, the salary of AME varies from 1.25 lacs for General Aviation aircrafts to 8.0 lacs per month (depending upon the Class and weight of aircraft). The salary of AME is also dependent upon the Class and Types of approvals corresponding to an aircraft. If the scope of AME covers multiple aircrafts fitted with different powerplant then such personal is the most sought after for any airline operator. Under such condition the person can demand good salary against the services sought by any aircraft maintenance organisation.
Even for the aircraft maintenance engineering services at the transit stops, A license AME mechanical or AME avionics holder garners 1.0 to 1.5 Lacs per month for the services rendered to the airline. In the early days only Govt. run operators viz, Air India and Indian Airlines were operative. In 90's era new private operators came up with inception of East West Airlines and Modiluft. This gave an opportunity and initial rise in demand for aircraft maintenance engineers in the domestic market.
The growing demand in the aviation sector in the 1990's created more openings for the aircraft maintenance engineers. The AME courses became popular choice as salary of an AME is amongst the highest paid professionals compared to any other profession globally. The beginning of 21st century suddenly came flooded with the multiple airline operators including Indigo, Jet airways, Spice jet, Go Air, Air Sahara, Kingfisher airlines, Paramount and Air Deccan. This surge supplemented the demand in the aircraft maintenance engineers but the availability of DGCA approved AME colleges was limited. The career graph of these skilled manpower sky rocketed and is still on the high demand with additional new entrants like Akasa Air, Air Vistara and Flybig Airlines.
On the global scale, India is the fastest developing aviation market with second largest population and under utilized air transport. The initiatives of the Government in enhancing the connectivity via air by launching regional connectivity schemes and offering access to operators to touch remote areas through UDAN scheme is a big boon for the rejuvenation of aviation fraternity. Whenever an aircraft touches down at an airport, it needs to be inspected for its airworthiness by the certified and licensed aircraft maintenance engineering staff members. These remote locations and new airports at district towns are now becoming apprenticeship and employment hot spots for the candidates having completed AME engineering course and acquired aircraft maintenance engineering license.
Aviation is no more lifestyle of the rich and famous but a necessary mode of transportation. Be it civil, military or cargo, the demand for aircraft maintenance engineering professionals is here to stay till the aviation industry is in existence.
Top Recruiters For AME's
The globalization opened gates for the multiple airline operators to fly in the Indian airspace. With these new aircrafts came necessity of their maintenance to keep them in airworthy condition. This gave rise to flourishment of Aircraft Maintenance Organisations in the domestic market which are the highest employment providers to the candidates having successfully completed AME course from the DGCA approved AME Institutes in India.
Although most of the airlines have their own maintenance and training divisions but there are many more whose reliability for the airworthiness of their aircraft is dependent upon the Maintenance, Repair and Overhaul organisations. Amongst the biggest players Indigo Airlines takes the commendable lead with more than 300 aircrafts under its belt. The aircraft maintenance engineering staff ratio runs in thousands and keeps on rising due to its mammoth order of 500+ Airbus aircrafts at 2023 Paris air show.
The other top recruiters in the line are Air India with biggest wide body fleet and holding maximum international route rights. Spice Jet, Vistara, Go Air, Airworks, GMR Aerotech, Indamar AAR and MJETS are the other top players who play significant role when it comes to recruitment of AME's. The Original Equipment Manufacturers like Airbus, Boeing, Honeywell, Collins Aerospace, Safran engines and TATA Advanced Systems are the big names which are marking their entry in the maintenance division.
Aircraft Maintenance Engineering (AME) FAQ's
Which course is best in AME?

The most sought-after course is Category B 1.1 (Aeroplane Turbine). This aircraft maintenance engineering course is most demanding as most of the system and structure require participation of ame mechanical to perform tasks ranging from minor inspection to major overhauling. Category B2 comes after Cat B 1.1 in terms of requirement. As a thumb rule, for every 10 Cat B 1.1 Aircraft Maintenance Engineer only 1 Cat B2 certifying staff is required.

What is the salary of an AME?

The salary of AME is variable and it completely depends upon the Class and weight of aircraft an aircraft maintenance engineer handle. Though the minimum pay scale for Cat B 1.1 AME values not less than 1.25 lacs, it progresses with bigger Class of the aircraft, the higher the salary offer. Other criteria which need consideration is location and scope of licenses which an AME is holding. The pay scale for multiple scope of ame license holder is higher compared to the one having limited scope of approval. Also, the salary structure of AME is highest in the Middle East and Europe globally comparative (up to 10 lacs per month).

Is AME a degree or diploma?

An AME course is neither a degree nor a Diploma. All the technical streams of aviation be it flying, operation or maintenance demands license which is issued and granted by the DGCA on compliance of the regulatory requirements. For maintenance division, the regulation states aircraft maintenance engineering course completed from DGCA approved AME institute in India.

Can I do AME after 12th?

The DGCA mandates admission in ame course after 10+2 or after completing Diploma in Electrical, Electronics or Mechanical Stream. For high school levels, Physics, Chemistry and Maths as major subjects is a must. However, for EASA Part-66 course, any candidate from arts, commerce & science can take admission in the EASA approved AME college in India. The minimum age at the time of admission must be 16 years.

Is AME difficult?

AME course is skill, knowledge and attitude oriented. An aircraft is a huge machinery which undergoes minute level inspections to major replacement of components/equipments during maintenance procedures. It requires immense sense of responsibility and perseverance to undertake the given task. The level of skill & knowledge attained at the basic ame engineering training and actual maintenance environment is the key. Any short cut taken during the learning phase could limit your scope and limit probability to exhibit your competency which can render prospects of attaining aircraft maintenance engineering license in the future.

Is AME a Govt job?

All the state and Central govt maintain and operate aircraft for VIP operations. If the aircraft is airworthy then by any means it will require maintenance support to keep it afloat. In India, all state governments have their own Civil Aviation department. They control VIP movement as well as oversee the operations of flying institutes, if any

Does AME have a scope?

AME will and always have scope till the aviation industry is in existence. With the increasing load of population and need to cut short travel time, Aeroplane have proved to be most reliable and convenient mode of transportation. With high safety standards & integrity incorporation, it is also most secure way to reach your destination without facing any obstacle.

Is AME a high paid job?

Any job which is associates with high risks is awarded well. Licensed AME are paid highest salaries in the world due to high level of risk involvement. Aircraft Maintenance Engineering is a responsible field where the deputed personals are expected to exercise their work privileges depending upon the scope of AME irrespective of the extremities of the physical or natural environment.

How do I join AME?

You can join AME course in the DGCA approved ame college by meeting the regulatory requirements which includes passing 10+2 with PCM, submission of attested medical fitness certificate from registered medical practitioner and validation of high school board result. If these all documents are clear cleared and your age is not less than 16 years of age at the time of admission, you are good to go ahead.

Is AME a B.tech course?

AME course is a license training program is a license course which is issued by the DGCA, Govt of India. Even if a candidate enrolls in a B.tech program, he/she needs to meet the eligibility requirements including passing of all relevant category module exams and recorded demonstration of maintenance experience to DGCA for license issuance. The route of attaining license through B.tech program is very time consuming and is not advisable.

Is AME a B.Sc course?

Aircraft Maintenance Engineering division and aircraft safety is controlled by the DGCA Ministry of Civil Aviation, Govt of India while the B.Sc programs are regulated & controlled by HRD Ministry, Govt of India. In no way they are interlinked to each other and are completely separate.

Is JEE required for AME?

JEE results are required for the entry in the Engineering colleges which are overseen by Human Resource Development or HRD Ministry Govt of India. The aircraft maintenance course desires different level of competency and are more skill based. Moreover, the controlling authority is completely different (Ministry of Civil Aviation) and have no role play associated with the admission and intake procedures.

How long does it take to become an AME?

The eligibility requirements vary for the different categories of maintenance requirements. For Category A, it is 1 year of maintenance experience requirement along with 800 hours of organised basic training (usually completed within a year). For Cat B and subsequent sub-categories, it is 2 years of maintenance experience requirements along with 2400 hours of organised basic training (usually completed in 24 months). If the requirements are compiled and everything goes streamlined, it takes 2 years for Cat A and 4 years for Cat B1, B2 and their sub categories.

Is the DGCA AME exam tough?

The DGCA module exam preparation requires a lot of learning and attainment of knowledge levels by following up multiple reference books. It requires a lot of concentration and dedicated mind to grasp the given knowledge. Certainly, if you are honest with your effort, nothing can fail you.

How long is the AME apprenticeship?

The AME apprenticeship requirement plays a key role in getting the skill development. While working in the Hangar/workshop area on original aircraft component/equipment boosts confidence levels. The experience requirements or apprenticeship depends upon the nature and scope of training requirement relevant o the appropriate category of a candidate. For Cat A it is 1 year, For Cat B1, B2 and their sub-categories it is 2 years. However, this apprenticeship requirement enhances to 5 years if a candidate makes entry after completing B.tech degree or attending any other un-organised training not acceptable to the DGCA.

What is an AME integrated program?

An AME integrated program provides additional qualifications to the candidate in parallel to his/her organised basic training course. These integrated programs are mainly on the distance learning mode and can be covered in parallel with AME basic training program. The enrollment in additional courses pile up the load on a candidate and it depends upon an individual how they handle and respond to the add on learning requirement.

What are the benefits of the AME Integrated program?

At the higher Management levels in aviation, additional qualifications apart from AME are appreciated. These integrated courses provided and enhance going up the ladder formula by brightening the future prospects when it comes to attaining promotion and securing important positions within a maintenance organisation.